Austin Z. Henley
I work on AI + dev tools.
---
---
A study guide for software engineering students
3/14/2022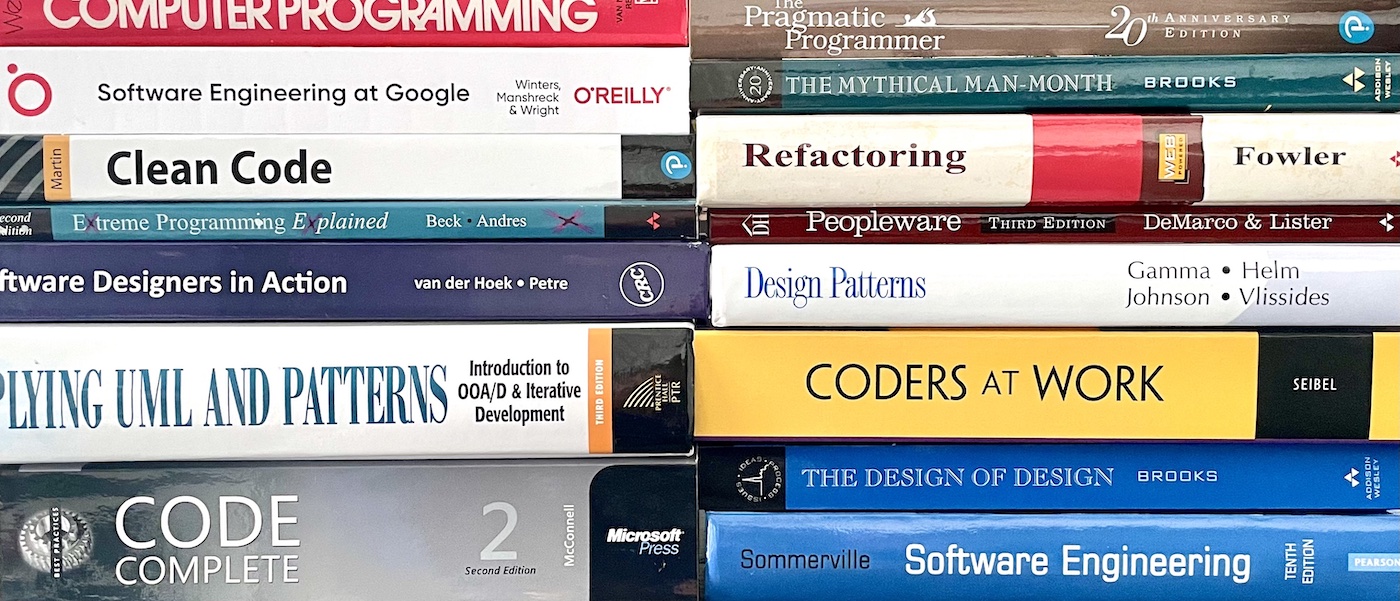 While teaching undergraduate software engineering for four years, I came up with a long list of topics I wished the students were exposed to. In reality, my courses only covered a small subset in detail. Most software engineering textbooks aren't very good and rarely convey day-to-day life as a developer.
But I must warn you: People on the internet are extremely opinionated about these topics. For example, you might see people say "design patterns are the devil" or "my incarnation of Scrum is the only correct way" or "all you actually need is to be a good coder". Be careful. It is helpful to know about the topics and the debates around them.
My study guide is divided into three categories: the process, the tools, and the code. Plus a bonus fourth category: the life. You'll need to use a variety of resources to learn each topic.
The Process
Waterfall model
Iterative and incremental development
Agile, Scrum, XP, Test-Driven Development, etc.
Standups
Iterations
Requirements
Estimating and prioritizing
Issue tracking
User stories
Pair programming
Code reviewing
Testing

Whitebox testing
Blackbox testing
Regression testing
Usability testing

Understanding failures

Case studies of famous software failures
Chaos engineering

Popular books:
The Tools
Version control

Distributed vs centralized
git
GitHub

Issue tracker
Code reviewing tool
Build system
Unit test framework
CI/CD
Program analyzer
Linter
Debugger
Telemetry
Type checker
Refactoring tool
Package management
Documentation generation
Containers
Regular expressions
API client
DBMS
Sysadmin and command line

Bash
Common Unix/Linux programs

Basic: cd, ls, pwd, cat, touch, rm, chmod, ssh
Intermediate: grep, awk, sed
Advanced: How to exit vi
The Code
Architecture and organization
Design patterns

What they are, pros, and cons
Ex: singleton, factory, observer
Model-view-controller

Readability and modularity
Technical debt
Heuristics for clean code
Encapsulation
Coupling and cohesion
Separation of concerns
OOP
Metrics
Error handling
Documentation
Popular books:
The Life
Ethics
Interviewing

Leetcode
Levels.fyi
Cracking the Coding Interview (Amazon)
Elements of Programming Interviews (Amazon)
System Design Interview (Amazon)

Performance reviews

Contributions (LoC, bug fixes, code reviews, mentorship, leadership, innovation)

Open source
Software licenses
Staying up to date

Hacker News
Reddit
Twitter
Professional conferences
Blogs
Side projects

Portfolio
Interacting with team
If I missed something or you disagree, please tweet me. 😎




There are Amazon affiliate links on this page.